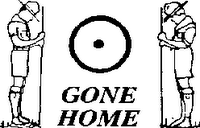 It is tradition in the Scouting movement to use the tracking symbol for "Gone Home" which is a dot or stone inside a circle to represent the passing of a member of the Scouting family and it is with sadness that we learnt that Enid Hookey passed away on Friday 3rd  May.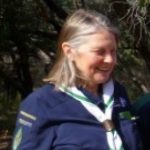 Enid was our Scout Leader from 2010 to 2017 and was instrumental in the renaissance of our Scout Troop. Her kind and patient leadership contributed to the growth and achievements of so many wonderful young people in our community including five Scouts earning their Australian Scout Medallion.
A celebration of her life will be held at the Kensington Town Hall on the 15th June 2019 from 9am until 12pm with a quiet moment for reflection at 11am. Enid's active and involved life in the Kensington community even with her illness in recent years can teach us all about how to live a good life and Enid's husband, John Widmer wants to celebrate with family, friends and community.
6th Melbourne Scout Troop will be displaying some items as a reminder of Enid contribution to the group. We would appreciate any contribution from our Scouts of memorabilia or photographs from their time with Enid. John has also asked Scouts to bake a favourite of Enid's, the ANZAC biscuit, to share with the guests.
Scouts: Please wear full uniform in honour of Enid.
When is it?
9:00 AM to 12:00 PM, Saturday, 15 June 2019
Where is it?
Kensington Town Hall
30 Bellair Street
Kensington VIC 3031
Add this event to your devices calendar.
Add this event your Google Calendar.