6th Melbourne Scouts entered Operation Night Owl as the Raging Rabbits patrol, lead by PL Alex.  Lerderderg Region hosts this annual hiking competition, and this year, about 250 Scouts plus their Leaders setup camp at Treetops Scout Camp, on Saturday afternoon, 12th September, in preparation for an evening departure.
It was pleasing to see our patrol of 7 Scouts complete the hike independently and without incident, covering 12 kms and 7 activity bases between 7:45 PM and 2 AM – that's 6 hours of hiking in dark bushland.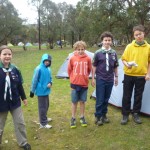 Our 6th Melbourne Scouts demonstrated resilience and team work to a high degree.  Congratulations to Yo, Kenneth, Matilda, Dylan, Sophia S., Yvonne, and Alex!
Whilst we didn't get to keep the Night Owl trophy, which we won last year, it has flown only as far as Footscray and the challenge awaits next year….